Bands
Add : A band see here for details.
Gothic Bands
Written by Lore
Saturday, 16 May 2009 09:40
Nosferatu
English Goth Rock act.  Putting this article in as a place holder after finding this excellent band history.  One of the amazing things about Nosferatu is the quality of all the different singers they have had.  Louis DeWray was excellent at WGT 2006 and is back again I understand for this years WGT 2009.
Band History
http://www.soundclick.com/bands/default.cfm?bandID=209098
Upcoming Gigs
Wave Gothic Treffen
1st June 2009
Parkbühne - 7:45pm
External Links

MySpace: http://www.myspace.com/officialnosferatu
Last Updated on Saturday, 16 May 2009 09:49
Saints Of Ruin mixing first full-length CD
Gothic Bands
Written by Thomas Jordan
Tuesday, 05 May 2009 08:20
The Saints Of Ruin will complete their first full-length CD "Nightmare" this May. The 11 track album contains dark rock themes with a metal edge and features Ruby Ruin's powerful, melodic voice. The songs range from hard-driving Ashes to the slow and haunting End Of Days. With a good measure of dance songs like
Be My King, one cabaret noir track called The Halloween Song and a Concrete Blond cover of Bloodletting this collection is deservedly gaining attention from a wide berth in the goth community. The Saints are currently negotiating with UK, European and US labels.
The Saints are based in San Francisco and are scheduled to play with Thrill Kill Kult in May and several local shows to warm up for touring. Watch for the Saints of Ruin on tour this Summer in Los Angeles, San Diego, Las Vegas and in fall in Sweden, Finland, Italy and the UK and then New Orleans for Halloween (heads up Endless Night and Vampire Lestat Ball attendees!).
Saints Of Ruin are a modern Goth-Rock band, combining powerful melodic vocals and mysterious lyrics with elements of metal guitars and electronic undercurrents.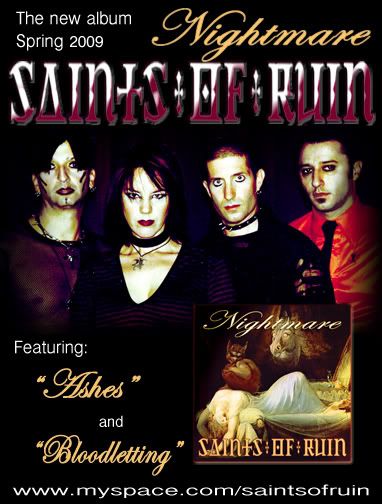 Ranked MySpace Music's Number 1 unsigned Goth band in California and Number 3 unsigned Goth band in the world…October 2008

Here's what the press are saying:

"….a modern Goth-Rock band that has been masterfully pumping out dark industrial rock since mid-2007. "
Revolver Magazine -August 2008
"Saints of Ruin are a truly amazingly powerful rock band with a truly amazing female singer in Ruby Ruin."
Insomnia Magazine -July 2008
 "…Record labels had better start forming an orderly queue here, to avoid disappointment! 9/10"
RavenHeart Music -May 2008
"An INCREDIBLE Gothic band with superstardom to be had all over them." 
Grave Concerns Magazine -March 2008
 "Extraordinary one of a kind Gothic Rock band that will take the world by storm."
My Gothic Life Magazine -March 2008
 
www.myspace.com/saintsofruin
Last Updated on Tuesday, 05 May 2009 16:06
EBM, Electro & Electronic Bands
Written by Administrator
Wednesday, 22 April 2009 03:45
Angelspit's new remix CD 'BLACK KINGDOM RED KINGDOM' 
Now available for pre-order. Ships May15, 2009.

Angelspit's long awaited Blood Death Ivory Remix album features 13 tracks from leading Electro/Industrial artists. Details on the amazing CD artwork and packaging will be announced shortly.

Track Listing:
01. Kill Kitty (KMFDM Remix)
02. Jugular (Alec Empire Remix)
03. Grind (Ayria Remix)
04. Skinny Little Bitch (Implant Remix)
05. Girl Poison (Ego Likeness Remix)
06. Devilicious (Dave Foreman Remix)
07. Kill Kitty (The Mercy Cage Remix)
08. Skinny Little Bitch (v01d Remix)
09. Girl Poison (I:Scintilla Remix)
10. Devilicious (A Is For Arsenic Remix)
11. Red (The Erektor Remix)
12. Shaved Monkey (Left Spine Down Remix)
13. Jugular (BAAL Remix)

Angelspit will gladly sign your CD. Please type your name in the "SIGN IT!" field.

The CD comes in 3 packs:




Black Kingdom Red Kingdom CD
Angelspit's new 13 track Blood Death Ivory Remix CD




Black Kingdom Red Kingdom CD + Merch Pack
13 track Blood Death Ivory Remix CD + Wristbands, Patches, Pill Box and AWESOMENESS!




Black Kingdom Red Kingdom CD + Blood Death Ivory 2 CD Set
13 track Blood Death Ivory Remix CD + 11 track original Blood Death Ivory

Free global shipping on all 3 packs. Available NOW on Surgeon-x.com:
https://angelspit.net/hairsurgeon/Store/index.php?main_page=index&cPath=62
Angelspit Remix Competitions
EBM, Electro & Electronic Bands
Written by Lore
Wednesday, 22 April 2009 03:43
Hey all, most of you know about this...but we're now releasing it to the general public...ROCK!!

Black Kingdom Red Kingdom Remix Competition
+ Audio Remix Competition
+ Visual Remix Competition

Angelspit are excited to announce two competitions to celebrate their upcoming release Black Kingdom Red Kingdom - the Blood Death Ivory Remix Album.

AUDIO REMIX COMPETITON
We are inviting talented remix artists to make war with 'Skinny Little Bitch' and 'Grind'. If you are interested in entering the audio remix competition, please check out the link below for more details and to download the remix kits.
http://www.angelspit.net/bdi/bkrk/rmx_comp_audio.htm

VISUAL REMIX COMPETITON
For those more visually inclined, we are also holding a visual remix competition, where artists can explore the concepts behind Blood Death Ivory through any visual medium, from photography, painting, graphic design, stencil art... the possibilities are endless! Please visit the link below for more information about how to enter.
http://www.angelspit.net/bdi/bkrk/rmx_comp_visual.htm

Entries close: Sunday May 3rd
Winners announced: Sunday May 10th
The winners will also receive a special merch pack containing a signed copy of Black Kingdom Red Kingdom plus other cool stuff.

ANGELSPIT FLICKR GROUP
Angelspit have also recently started a flickr group, where you can post fan art, photographs of Angelspit and anything Angelspit related. It's a place to collate and showcase Angelspit related visual material and a place for fans to meet. Please check it out here!
http://www.flickr.com/groups/angelspit/

BLOOD DEATH IVORY REMIX CD
Angelspit's long awaited Blood Death Ivory Remix album will be the debut release on Black Pill Red Pill records. The remix disc features artists such as KMFDM, Alec Empire, Ayria, I:scintilla, Baal, Ego Likeness and many more talented remix artists who will soon be announced. Entitled 'Black Kingdom Red Kingdom' the remix album will be released on the 15th of May 2009.

MERCH =DOOM
View all Angelspit's merch on Surgeon-x:
www.surgeon-x.com

ROCK!

www.angelspit.net
<< Start < Prev 1

2

3 Next > End >>


Page 2 of 3
{include_content_item 28}