Saints Of Ruin mixing first full-length CD
Gothic Bands
Written by Thomas Jordan
Tuesday, 05 May 2009 08:20
The Saints Of Ruin will complete their first full-length CD "Nightmare" this May. The 11 track album contains dark rock themes with a metal edge and features Ruby Ruin's powerful, melodic voice. The songs range from hard-driving Ashes to the slow and haunting End Of Days. With a good measure of dance songs like
Be My King, one cabaret noir track called The Halloween Song and a Concrete Blond cover of Bloodletting this collection is deservedly gaining attention from a wide berth in the goth community. The Saints are currently negotiating with UK, European and US labels.
The Saints are based in San Francisco and are scheduled to play with Thrill Kill Kult in May and several local shows to warm up for touring. Watch for the Saints of Ruin on tour this Summer in Los Angeles, San Diego, Las Vegas and in fall in Sweden, Finland, Italy and the UK and then New Orleans for Halloween (heads up Endless Night and Vampire Lestat Ball attendees!).
Saints Of Ruin are a modern Goth-Rock band, combining powerful melodic vocals and mysterious lyrics with elements of metal guitars and electronic undercurrents.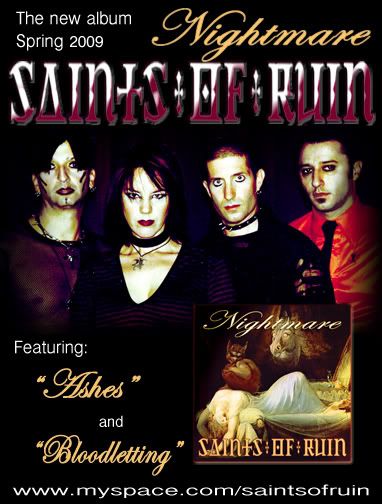 Ranked MySpace Music's Number 1 unsigned Goth band in California and Number 3 unsigned Goth band in the world…October 2008

Here's what the press are saying:

"….a modern Goth-Rock band that has been masterfully pumping out dark industrial rock since mid-2007. "
Revolver Magazine -August 2008
"Saints of Ruin are a truly amazingly powerful rock band with a truly amazing female singer in Ruby Ruin."
Insomnia Magazine -July 2008
 "…Record labels had better start forming an orderly queue here, to avoid disappointment! 9/10"
RavenHeart Music -May 2008
"An INCREDIBLE Gothic band with superstardom to be had all over them." 
Grave Concerns Magazine -March 2008
 "Extraordinary one of a kind Gothic Rock band that will take the world by storm."
My Gothic Life Magazine -March 2008
 
www.myspace.com/saintsofruin
Last Updated on Tuesday, 05 May 2009 16:06
{include_content_item 28}